After-sales Service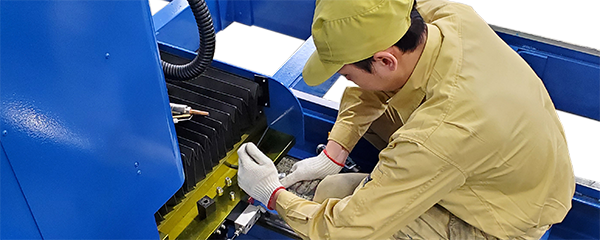 Maintenance / support
We will respond to inquiries from Japan and abroad for your comfortable use of the PIPE COASTER.
1. Emergency case of machine parts (abroad)
We receive an inquiry from our customer in Thailand around noon saying that
they had trouble on the touch panel. Since their construction schedule was tight,
we flew to Thailand to hand them the parts. Around 2 am of the next day,
the fixing was completed. As a result, the machine stopped only for a half day,
and they could minimize the delay of their schedule.
2. Emergency case of machine parts (in Japan)
Early in the morning, a customer contacted us and told us that
a motor for torch traveling system stopped suddenly.
From the conversation on the phone, we found that servo amplifier caused the trouble.
Our staff headed to the customer in the morning, and the machine was fixed in the afternoon.
3. Maintenance and support for parts
For the customers who request periodical maintenance,
we do fine adjustment of the machine in addition to the inspection.
The parts for the PIPE COASTER are genuine products of class leading makers.
Therefore, those are available internationally.
4. Support for data entry
We had a question about data entry. Our customer had hard time entering data
even with the operating manual. We sent sample data,
and gave them instruction about data entry and concept behind.

For better understanding of correlative cutting, we offer lectures about datalinking from 3D CAD.
Overhaul
We comply with your request for overhaul.
Model: HID-600MTS (6m)
Date of manufacture: July 1995
Data of overhaul: October 2013A set of new computer system
A set of servomotors and drivers
New control console and Remote Control Panel
Laser sensor system
Before the overhaul

After the overhaul
---